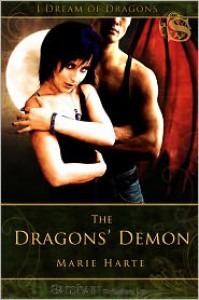 Dragons, angels and demons, oh my! Eve Sinclair is a demon with an important job. She and her brothers give that little push to allow an ambivalent human determine their afterlife fate. Do they go to heaven or hell? It's up to the human. When Eve's prankster brothers go a bit too far with a joke on her, Eve is taken by the Dragons.
Dragon lovers, this is a story for you. Ranton is a high ranking dragon and he is pissed. Some demon stole his mother's egg and he wants it back. When he finds Eve holding the egg, all hell breaks loose. Did anyone mention this egg is special because it holds the future dragon king? Imagine Eve's surprise when she finds out and is left trying to explain this mess and make it right.
This is a tightly woven store with mischief and high erotic heat. Ms. Harte writes erotic scenes like no other. She is always dependable for cranking up the thermostat to smoking hawt. The chemistry between Ranton and Eve is fiery and argumentative. These are two stubborn characters who can handle just about anything. It's a blast to watch and readers should pop some popcorn and watch the fireworks between them. I thoroughly enjoyed the erotic aspect as well as the temper tantrums. The fun injected into this story as well as the kick butt characters makes this story a joy to read. From page one, a reader is hooked and won't stop until the end of the book. The world building is intriguing if left with many open questions. With a follow up book, hopefully the second one will expand upon the world building. This paranormal romance is recommended to dragon lovers who melt for an alpha male.
*provided by NetGalley